LabVIEW Driver for Uniblitz
Quickly and easily control your Uniblitz shutter with LabVIEW.
---
Overview
Every function supported by Uniblitz to control your shutter.

This simple yet powerful driver will give you complete control over your Uniblitz shutter device from LabVIEW. The example code shown below ships with the driver, exposes every Uniblitz operation available, and is ready to run.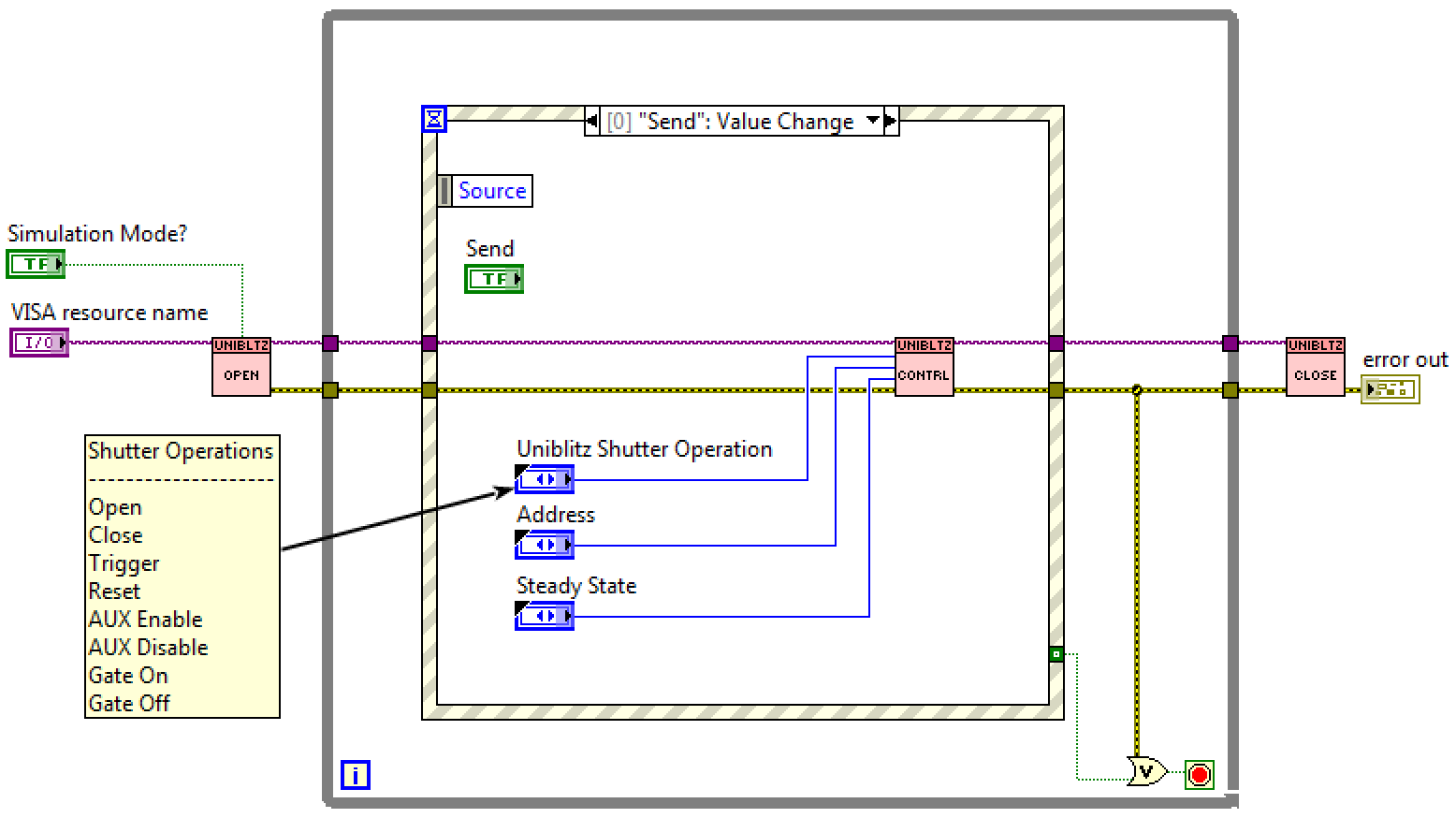 ---
Download
MD5: fe10499d109ebd28f69bbda5674015d5
Note: this driver uses NI-VISA (visit ni.com to download this dependency)
What's Inside
The shipping example runs out of the box and shows you how to quickly use the driver VIs, with everything easily accessible to start from the Example Project. The download contains code for effectively every meaningful version of LabVIEW today. The following are the core driver VIs with which you can program your Uniblitz shutter:
UNIBLITZ-ShutterDriver-Open.vi



Opens a serial connection to the device.

UNIBLITZ-ShutterDriver-Control.vi



Exposes functions for opening and closing a shutter, and controlling the shutter's reset, trigger, AUX, and gate states.

UNIBLITZ-ShutterDriver-Close.vi



Closes the serial connection to the device.


---
Professional Services
We'll help you build a beautiful application.
Sixclear Fabriq Platform
Sixclear Fabriq is a systems development platform over which Sixclear delivers the industry's biggest and most sophisticated applications.

Let's quickly build your application using the most modern capabilities available today, including web interfaces and super-scalable system topologies!
Development Services
Need a quick and dirty application to get up and running? Or have an existing application from which you'd like us to work?

No problem! Let our team of architects help you tackle that in no time! And yes, we staff only architect-level developers to ensure deep insights for every application.
---